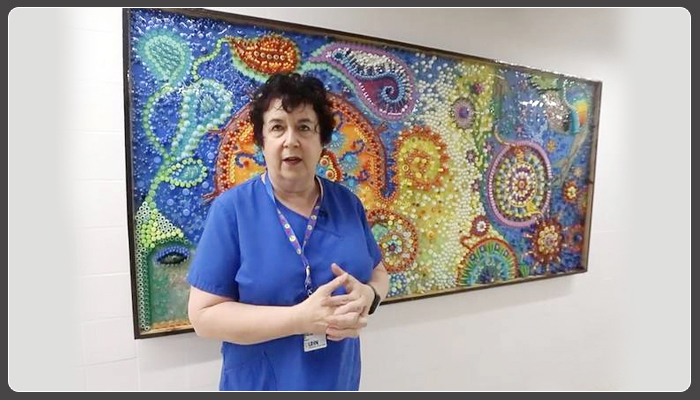 Ever wonder what happens to the many plastic parts used to maintain hospital tools when they're no longer needed? For one healthcare employee, they become a work of art.
Tilda Shalof was an ICU nurse at Toronto General Hospital for nearly three decades, and in that time, she collected hundreds of lids, levers, screws, and connectors of various colours. Why? Because none of them were true biomedical waste.
Having been removed from their tools before use and otherwise untouched, Shalof decided to bring the pieces home and put them to use again. With the help of two experienced artists, she created a thirty-six square foot mosaic of reds, blues, greens, yellows, purples, and oranges. The finished product has been mounted on the wall of Shalof's old workplace.
The nurse-turned-radiologist even took the time to describe what the parts were all for. Everything from blood culture case lids to adrenaline injection tops make up the mosaic, all colour coded differently. The artwork, according to Shalof, is a sort of farewell to the many patients she tended to at Toronto General Hospital.
Shalof's new radiology career is at a different hospital, and though she keeps on collecting pieces, she writes books in her spare time, too. In more ways than one, she has managed to turn waste into wonder and keep her creativity flowing.
Why book with CORE?

When ordering a disposal or mini bin there are a few questions to ask yourself.


How big of a bin do I need?
Do I have enough room to conveniently maneuver around the bin on my property?
Where would I like the driver to place the bin?
What am I going to fill the bin with?
How long am I going to need the bin for?

When our clientele orders a bin this is what we think of:


What area is the disposal or mini bin going into?
Is there ample room for the truck required to deliver and pickup the disposal or mini bin?
Where are we going to take the material that is not only cost effective, but environmentally friendly?
Core Mini Bins guarantees same day service and cost-effective services to aid in the removal of all your: Dirt- Soil – Clean Fill- Concrete- Rubble- Block- Clay- Brick- Asphalt- Gravel- Renovation Waste