At Core Mini Bins we strive for excellence in everything that we do. Whether it is a Mini Bin for a small household project; or a bigger Disposal Bin on a construction site, customer service is our main priority. We have been providing the GTA with our services for over 25 years and are fully licensed, Insured and Ministry of Environment approved. Our current customer base includes: Home Owners, General Contractors, Construction Companies, Paving Companies, Retail Stores, Home Builders and why not add YOU to that list. Call us today for a quote on all of your construction needs.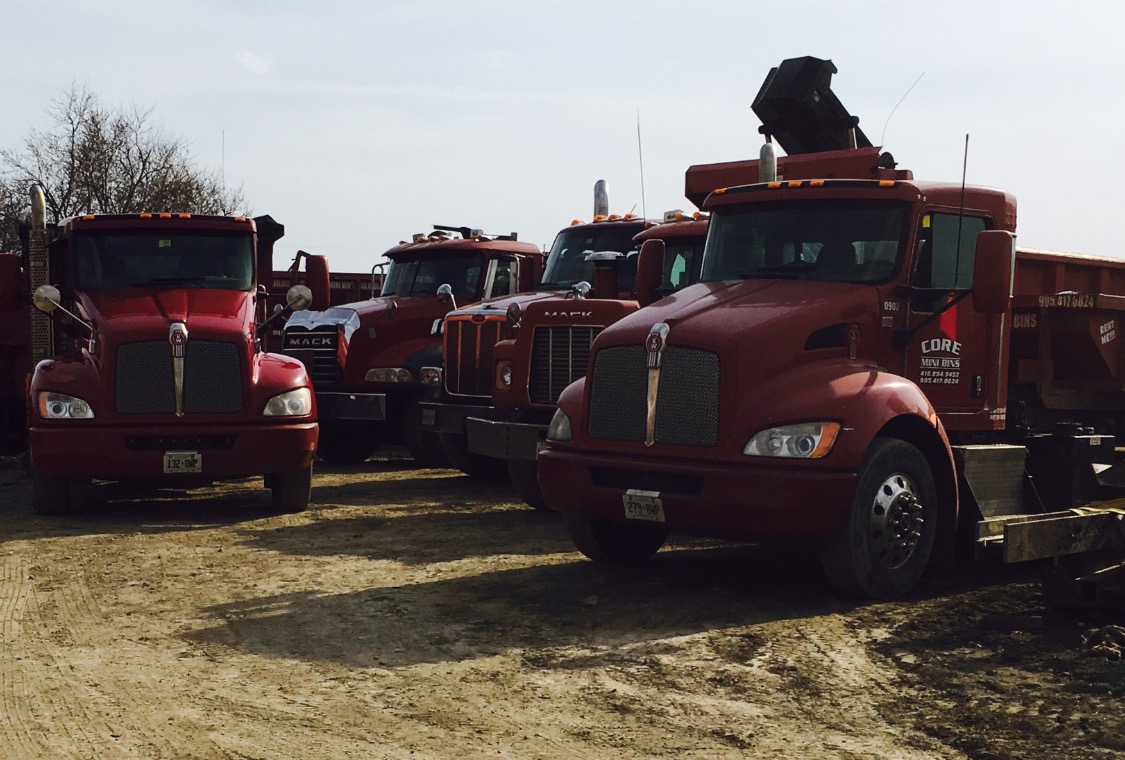 At Core Mini Bins we had our manufacturers specifically design our Mini Bins to take up the same amount of space on your driveway as a car would. We offer 4 Yard, 6 Yard, and 8 Yard bins that are perfect for smaller spaces and easily accessible to load. Our 10 Yard, 14 Yard and 20 Yard bins are perfect for those jobs that are just a tad bit bigger. We offer competitive prices to all of our Residential, Commercial, and Industrial customers. Our bins are available for: Garbage Removal, Soil Removal, Topsoil Removal, Concrete Removal, Asphalt Removal, Clean Fill Removal and Brick Removal.
Core Mini Bins is your leading service provider when it comes to miniature disposal in the GTA. We provide outstanding same day service and our operators can guide you in the right direction, to get the right sized bin for any sized job. At Core Mini Bins we strive for high quality service that is cost effective and extremely efficient. Our services are in no way limited to Mini Bins. We also provide Premium Quality Soil Mixtures, outstanding Garbage Removal Services(4-40 yards), large and small scale Excavations, and tactically planned Demolitions that will leave you with a smile at the end of the day.
Why book with CORE?

When ordering a disposal or mini bin there are a few questions to ask yourself.


How big of a bin do I need?
Do I have enough room to conveniently maneuver around the bin on my property?
Where would I like the driver to place the bin?
What am I going to fill the bin with?
How long am I going to need the bin for?

When our clientele orders a bin this is what we think of:


What area is the disposal or mini bin going into?
Is there ample room for the truck required to deliver and pickup the disposal or mini bin?
Where are we going to take the material that is not only cost effective, but environmentally friendly?
Core Mini Bins guarantees same day service and cost-effective services to aid in the removal of all your: Dirt- Soil – Clean Fill- Concrete- Rubble- Block- Clay- Brick- Asphalt- Gravel- Renovation Waste