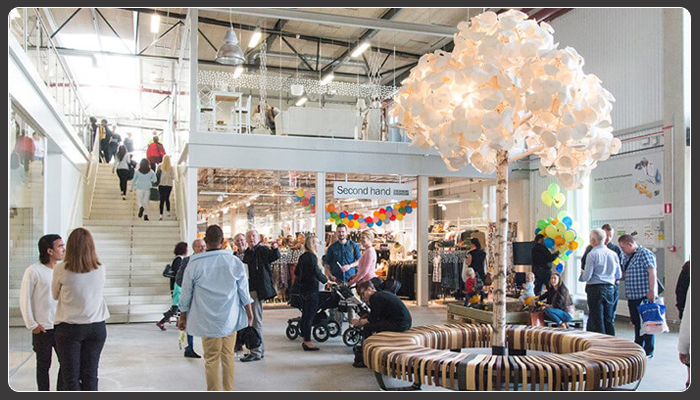 If you enjoy hunting for good deals and being eco-friendly, you'll love the new mall in Eskilstuna, Sweden, that exclusively houses secondhand products in both original and repaired condition.
The shopping center, dubbed ReTuna Återbruksgalleria, allows shoppers to recycle their old items and take home new ones in a single trip. Donated items are cleaned and repaired as needed before being set up into smaller individual shops that each cater to a theme, including textiles, electronics, and outdoor equipment.
For hungry customers, ReTuna Återbruksgalleria offers an organic restaurant, and for those wanting to learn more about being kinder to the earth, there exists a specialized education program for recycling studies within the walls of the center.
Not only has this revolutionary new mall prevented garbage buildup by more than a margin, it has also provided fifty stable jobs for Swedish entrepreneurs and repair workers. These employment and waste reduction benefits are nothing to scoff at, and in fact set an example for other developed countries.
This new facility has produced nothing but positive results. The nation's people can participate proudly, knowing they have contributed to the preservation of the planet and saved money while doing it.
Why book with CORE?

When ordering a disposal or mini bin there are a few questions to ask yourself.


How big of a bin do I need?
Do I have enough room to conveniently maneuver around the bin on my property?
Where would I like the driver to place the bin?
What am I going to fill the bin with?
How long am I going to need the bin for?

When our clientele orders a bin this is what we think of:


What area is the disposal or mini bin going into?
Is there ample room for the truck required to deliver and pickup the disposal or mini bin?
Where are we going to take the material that is not only cost effective, but environmentally friendly?
Core Mini Bins guarantees same day service and cost-effective services to aid in the removal of all your: Dirt- Soil – Clean Fill- Concrete- Rubble- Block- Clay- Brick- Asphalt- Gravel- Renovation Waste