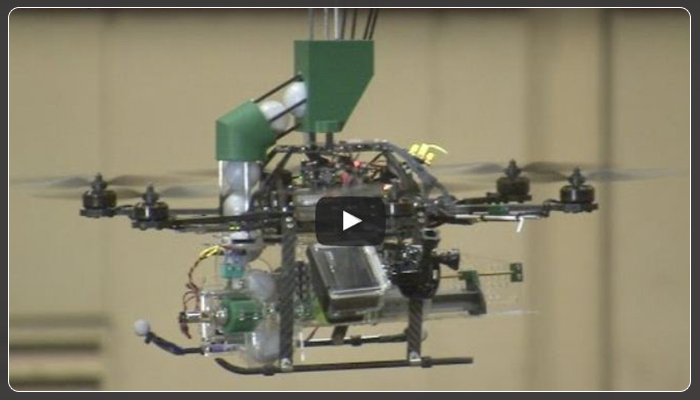 There could be no need for dumps or days dedicated to street cleaning in the future thanks to a utility company located in the Chinese city of Xiangyang. Their newest and perhaps most useful creation is a remote controlled fire-breathing drone that incinerates waste with just a few powerful blasts.
It was the constant garbage pileup on local power lines that prompted the development of this unconventional product. Currently, a cherry picker equipped with several technicians travels to the pileup points and manually cleans the lines. It's a fine fix for the time being, but it's too dangerous and time-consuming to continue indefinitely.
By bringing fire-breathing drones into the picture, the job becomes effortless, and technicians can focus on more important tasks. The clean-up team is swapped out with one drone managed by a pair of workers, who control the drone to set the garbage aflame from the safety of the ground below.
A project as specific as this one will need time before it's perfect and readily available. The firestarter drone isn't, however, the first of its kind. Last year, the US formally tested flame-equipped drones approved by the FAA and NASA to spark fires that remained tame. Additionally, university researchers at the Homestead National Monument of America, located in Nebraska, experimented with a different drone that serves the same purpose. This drone releases flammable pellets that ignite upon impact, and it managed to spread fire across twenty-six acres of long grass.
Even more bizarre is the possibility of drone-cooking, which uses a firestarter drone to torch raw food into a hot meal. So far, only a turkey has been tested on. As long as they serve a good purpose, drones are sure to be part of our future.
Why book with CORE?

When ordering a disposal or mini bin there are a few questions to ask yourself.


How big of a bin do I need?
Do I have enough room to conveniently maneuver around the bin on my property?
Where would I like the driver to place the bin?
What am I going to fill the bin with?
How long am I going to need the bin for?

When our clientele orders a bin this is what we think of:


What area is the disposal or mini bin going into?
Is there ample room for the truck required to deliver and pickup the disposal or mini bin?
Where are we going to take the material that is not only cost effective, but environmentally friendly?
Core Mini Bins guarantees same day service and cost-effective services to aid in the removal of all your: Dirt- Soil – Clean Fill- Concrete- Rubble- Block- Clay- Brick- Asphalt- Gravel- Renovation Waste