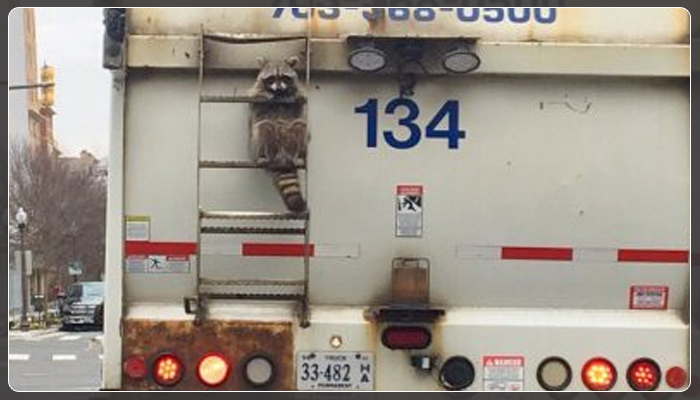 A real-life motivation poster appeared on Friday, when a commuter noticed a raccoon hanging onto the back of a garbage truck as both vehicles were moving along the streets of Arlington, Virginia. The commuter was naturally taken aback by the sight of a raccoon hanging onto the garbage truck for dear life.
After spotting the animal in the Rosslyn neighborhood, a reporter from Politico let the garbage truck driver know what was going on. Three police officers eventually made their way to the scene with catch poles, only to discover that the raccoon was now inside the truck container. Once the raccoon was safely captured, it was returned to a nearby park. Animal Disposal Services later reported that the animal had been safely removed from the situation and that it was now safely back in its natural surroundings.
Why book with CORE?

When ordering a disposal or mini bin there are a few questions to ask yourself.


How big of a bin do I need?
Do I have enough room to conveniently maneuver around the bin on my property?
Where would I like the driver to place the bin?
What am I going to fill the bin with?
How long am I going to need the bin for?

When our clientele orders a bin this is what we think of:


What area is the disposal or mini bin going into?
Is there ample room for the truck required to deliver and pickup the disposal or mini bin?
Where are we going to take the material that is not only cost effective, but environmentally friendly?
Core Mini Bins guarantees same day service and cost-effective services to aid in the removal of all your: Dirt- Soil – Clean Fill- Concrete- Rubble- Block- Clay- Brick- Asphalt- Gravel- Renovation Waste