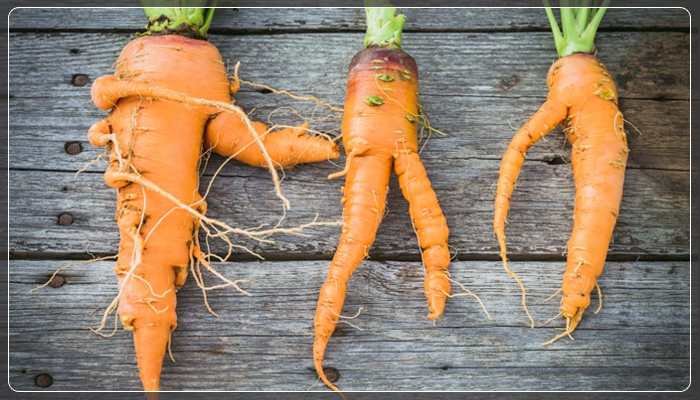 Are you a picky eater? How do you feel about the way your food "looks"? Many of us have foods that we like and dislike. However, an alarming number of people base their prejudices with food on not just how the food tastes, but on how the food looks. When it comes to fruits and veggies in particular, some have the following train of thought - "If it looks weird, or even gross, then it's probably going to make me sick in some form or fashion."
This is a terrible way to think about food, particularly items like fruits and vegetables. It amounts to a great deal of waste. This is waste that damages our planet, hurts your wallet, and destroys food that is largely no different from anything that "looks" fine.
More specifically, it is waste that we can do something about.
An Easy Way To Prevent Food Waste?
For a while now, overseas markets throughout the North America and Europe have been selling fruits and veggies at a discounted price, and the only qualification is that the fruit has to be "ugly." New Zealand has also recently started a similar initiative.
Created by Countdown Supermarket, The Odd Bunch has been created as a means of selling produce with minor imperfections at a discounted price. The idea is to give a new lease on life to fruits and vegetables that are otherwise fine, beyond a few minor visual problems, while also offering consumers the chance to get fantastic produce at a discounted price.
The endeavor is working from humble beginnings, at least for now. Half-damaged stone fruit and carrots will be made available at the start, and you can expect more fruits and veggies to make their way to shelves through this initiative over the coming months.
Remember while shopping that just because something looks a little beat-up, it doesn't mean that it is actually bad. Soft tomatoes can make for a great sauce. Floury apples can be used in a variety of different recipes. You can even cut the bruised bits away from pieces of stone fruit.
Why book with CORE?

When ordering a disposal or mini bin there are a few questions to ask yourself.


How big of a bin do I need?
Do I have enough room to conveniently maneuver around the bin on my property?
Where would I like the driver to place the bin?
What am I going to fill the bin with?
How long am I going to need the bin for?

When our clientele orders a bin this is what we think of:


What area is the disposal or mini bin going into?
Is there ample room for the truck required to deliver and pickup the disposal or mini bin?
Where are we going to take the material that is not only cost effective, but environmentally friendly?
Core Mini Bins guarantees same day service and cost-effective services to aid in the removal of all your: Dirt- Soil – Clean Fill- Concrete- Rubble- Block- Clay- Brick- Asphalt- Gravel- Renovation Waste