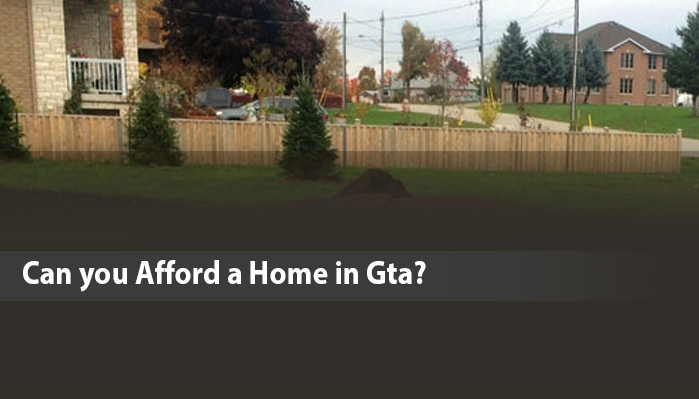 Living in Greater Toronto Area (GTA) requires a pretty good income. If you think about moving to live in the area you must have a six-digit income in order to afford buying a home there. Recent studies conducted by real estate firms showed that you need an average income of over hundred and twenty thousand dollars in order to buy a property in the GTA. This covers all properties, starting from smaller apartments to larger houses and it also includes the taxes on the property.
If your income is less than eighty thousand dollars you will still be able to purchase a property, but it will be in the neighborhood Brock which is located near Lake Simcoe. This neighborhood has the lowest price for selling, but the problem is that is around an hour and a half drive away from the center of Toronto. The first time buyers have problems to find a decent home because the newer generation's struggle to put a deposit that will qualify for a good home.
Studies have shown that the home buyers looking for townhouses, houses and semi-detached need seventeen percent bigger income to buy this year in comparison with the last year, because of the fact that the prices of homes are constantly rising. Those seeing to buy a condo need additional six percent bigger earnings on top of that. The biggest average prices of homes are registered in the region of York, where King Township homes have an average selling price of $1.2 million. Richmond Hill closely follows King where the average prices of homes are in the region of one million dollars. Average citizens of Canada working average jobs are almost shut down from those markets as they cannot afford buying homes at those prices. The most expensive areas usually attract foreign wealthy buyers or those that move-up and have additional incomes. A household income of around two hundred thousand dollars is required if you want to buy a decent house in the area of Richmond Hill. Lots of people also go for the option to buy the house with monthly payments. An average payment on a month-to-month basis for home on a Richmond hill is a little bellow four thousand dollars per month. Detached homes can also be found, but they are mainly sold for over one million dollars. Those buyers that want garages in their homes will most likely have to spend over couple of million dollars. Custom homes are even more expensive, going as up as five million dollars.
When it comes to the cheaper homes on the market, those buyers that have an annual income lower than a hundred thousand dollars can buy a property in the region of Durham, including the neighborhoods Clarington and Oshawa. People seeking to buy homes for the first time are especially attracted to the neighborhood of Oshawa, where the average prices of homes are a bit above four hundred thousand dollars. Although Oshawa is a bit far from Toronto, there is an upward trend of multiple offers for the homes there and that affects the buyers in the region.
Why book with CORE?

When ordering a disposal or mini bin there are a few questions to ask yourself.


How big of a bin do I need?
Do I have enough room to conveniently maneuver around the bin on my property?
Where would I like the driver to place the bin?
What am I going to fill the bin with?
How long am I going to need the bin for?

When our clientele orders a bin this is what we think of:


What area is the disposal or mini bin going into?
Is there ample room for the truck required to deliver and pickup the disposal or mini bin?
Where are we going to take the material that is not only cost effective, but environmentally friendly?
Core Mini Bins guarantees same day service and cost-effective services to aid in the removal of all your: Dirt- Soil – Clean Fill- Concrete- Rubble- Block- Clay- Brick- Asphalt- Gravel- Renovation Waste